Dr. Maria Schaumayer Stiftung
Stiftung zur Förderung von Frauenkarrieren
Univ.-Prof. Dr. Ingrid Pabinger-Fasching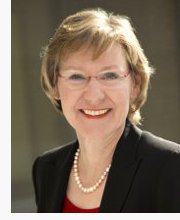 Date of Birth: September 6, 1956
Nationality: Austrian
Study of Medicine: 1975-1981
Training in Internal Medicine: 1982-1989
Professorial dissertation: 1991 (Internal Medicine)
Specialisation in Haematology and Oncology: 1999

Present Position:
Since 2004 Professor of Haemostaseology at the Clinical Division of Haematology and Haemostaseology, Department of Medicine I, Medical University of Vienna.

Director of the Haemostaseology outpatient department since 1997.

Director of the Haemophilia Center Vienna since 1998.

Scientific fields:
Thrombosis risk factors
Haemophilia treatment and acquired hemorrhagic diathesis
Coagulation abnormalities in patients with oncologic and haemato-oncologic diseases
Immune-thrombocytopenia
Haemostaseologic problems in critically-ill patients
Thrombotic and bleeding disorders.
Principal investigator in numerous clinical trials.

Publication of 292 papers in peer-reviewed journals.
Panel member of the ACCP from 2004-2008.

Various functions in Boards and Committees of International and National Societies, such as the ISTH, EHA, GTH, ASH et al. (Jan. 2010 – Dec. 2013 member of the American Society of Hematology [ASH®] International Member Committee for a 4-year term;
since 2011 Co-chairman of the SSC Subcommittee on Hemostasis and Malignancy of the ISTH; ISTH Council member for the term 2012 – 2018).

Editor or associate editor of various scientific top journals.

© 2015-2023 Dr. Maria Schaumayer Stiftung